Assembly area CHAIRING by CRIVAL®
A new chair concept which has been developed in Denmark and Switzerland by Crival®.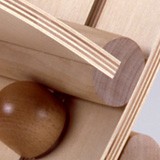 Manufacturing 8 sheets of selected wood
The 8 sheets of selected wood of the curved plywood are assembled and pressed from the beginning in the shape of the final part. This secures a long lasting stability of the curve.
All parts are sanded until the surface becomes absolute uniform and smooth. They are treated with an environmental friendly varnish to get the final satin touch.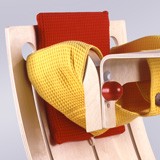 Materials The top quality of birch as veneer ensures both resistance and a beautiful look of the "Chairing" plates.
All bearing parts, like fittings and support angles are made of plain solid wood to ensure the best resistance.

The hammock of the baby chair is made of ecological grown and treated cotton. Crival's quality control and Baby chair are GS certified by TÜV Rheinland (Germany) product safety EN-1178.
An evolutive room divider concept with infinite variation possibilities.
Walling can also be equiped with shelves, hooks and much more.
In a final stage of development, these projects are ready to be produced.
Pending patent and copyright by Crival®
All rights (patent and copyright) by Crival®